---
It's a true win-win .
---
Not only can couples save a lot of money, but dating regularly can be a lot of fun and it can help improve relationships. Plus, the $30.00 for the button will be used by Preserve Marriage Ministries to help improve the marriages and lives of couples throughout North Central Indiana. So, don't wait! Order your buttons now by simply clicking "purchase" below.
PURPOSE

The purpose of "Date My Spouse Week" is to get married couples dating on a regular basis. The benefit of doing that through this program is that it can save couples money.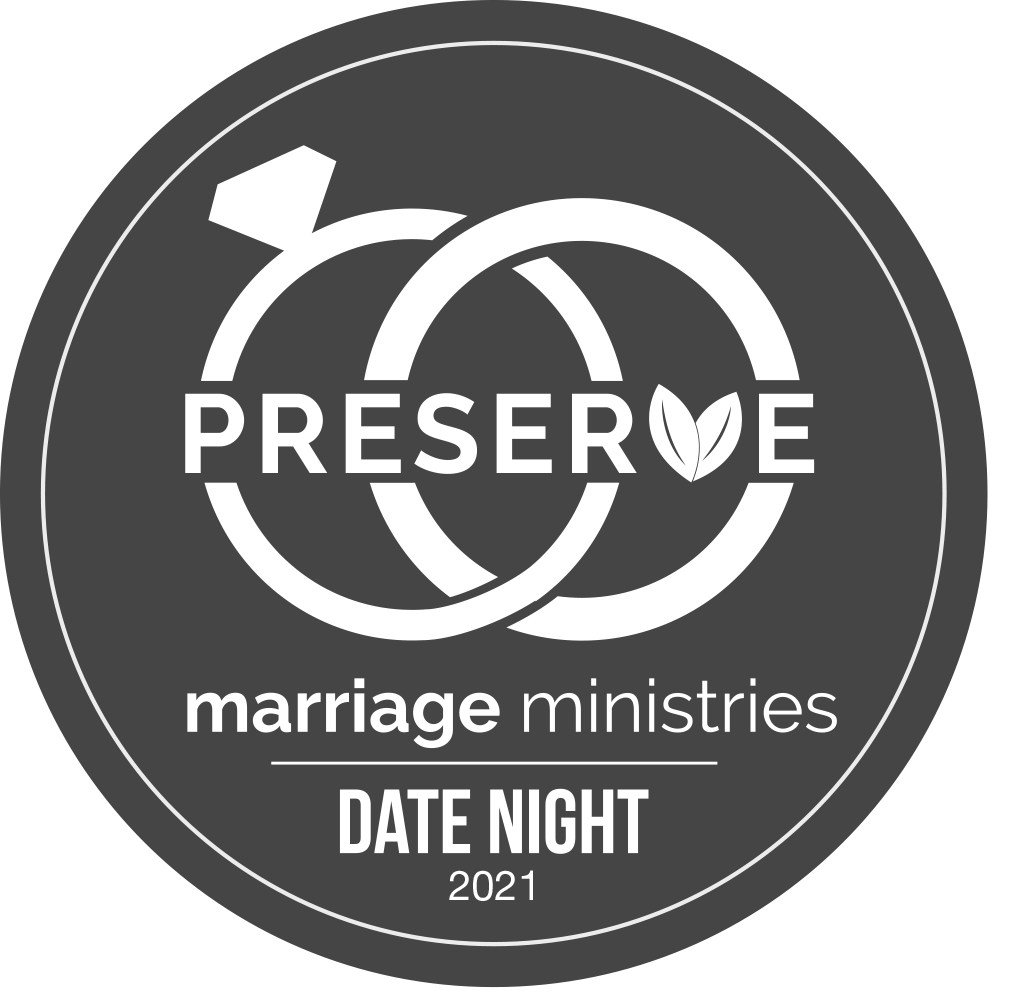 Date Night Button
$30
Discounts at 30+
Restaurants & Businesses
Support the Ministry
Enjoy a happier marriage
Purchase
How it works
---
Buying a button for the low price of $30.00 gains you access to the various discounts offered by our many participating restaurants and businesses. These discounts are offered over 4 days each month, Mondays – Thursday's (beginning at 5 PM unless otherwise specified), during the second full week of each month throughout the calendar year.
The dates for calendar year 2021 are:
January 11-14, February 8-11, March 8-11, April 12-15, May 10-13, June 14-17, July 12-15, August 9-12, September 13-16, October 11-14, November 8-11 and December 13-16.
So to recap, through this event couples can have fun dating, save money in the process, and give to a good cause… Yes, yes, and yes! So don't wait, order your button now by simply clicking "Buy Now" on the right side of this page.
Here are some further details:
Participating couples must purchase an event button from Preserve Marriage Ministries for $30. This gives them access to discounts at participating restaurants/businesses.
"Date My Spouse Week" will be scheduled for the second Monday – Thursday of each month beginning at 5 pm (unless otherwise specified).
We will send a monthly email to all participating couples prior to "Date My Spouse Week" that will provide them with: information on restaurants/businesses (including a reminder on what the discounts are)
Participants should wear their "Date My Spouse" button while in participating establishments, making it visible to managers/servers.
Please base your gratuity on the full price before discounts.
2021 PARTICIPATING BUSINESSES:
---
Big Ben Coffee
1230 West Jefferson
Kokomo, IN. 46901
Buy 1 Drink, Get 1 Free
Buffalo Wild Wings
1780 East Boulevard
Kokomo, IN. 46902
15% Off
Charley's Philly Steak
1610 East Boulevard
Kokomo, IN. 46902
10% Off
Cone Palace
55 W 300 S
Kokomo, IN. 46902
Buy 1 Small Arctic Swirl, Get 1 Free
Cross America
840 Daniel Drive
Kokomo, IN. 46901
Buy 1 Meal, Get 2nd Meal Half Off. (Available for breakfast 8am — 9am and dinner from 5pm — 7pm.)
Culvers
101 Pipeline Way
Kokomo, IN. 46902
10% Off
Dairy Queen
Both Kokomo Locations 2130 West Sycamore 151 South Reed Road Kokomo, IN. 46901
Buy 1 Meal, Get 1 Free
Don Ponchos
1833 South Plate
Kokomo, IN. 46902
10% Off
Foxes Trail
305 South Main
Kokomo, IN. 46901
Free Appetizer (Limit $10 Value) (W/ Additional $15 Purchase)
Grindstone Charley's
3830 South Lafountain
Kokomo, IN. 46902
15% Off (Not Valid with any other Discounts, Coupons or Special Offers)
Harvey Hinklemeyers
1554 South Dixon
Kokomo, IN. 46902
10% Off
Hawg Heaven
425 West Defenbaugh
Kokomo, IN. 46902
Buy 1 Meal, Get 1 Free
Hot Box Pizza
2110 East Markland
Kokomo, IN. 46901 ("The Deal" $17) (Large 1 Topping Pizza, Breadsticks and 2 Drinks)
IHOP
50 Co. Rd. West 300 South
Kokomo, IN. 46902
Buy 1 Meal, Get 1 Free
Indulgence Bakery
101 West Defenbaugh
Kokomo, IN. 46902
Limit — Buy 1 Cupcake, Get 1 Free (9 a.m — 5 p.m. Tuesday and Wednesday) (11 a.m. — 4 p.m. on Thursday's)
Louie's Coney Island
1700 East Hoffer
Kokomo, IN. 46902 Buy 1 Coney or Baked Hamburger, Get 1 Free (Dine-in Only)
Tuesday — Thursday Only Lunch and Dinner
McAlister's Deli
2020 South Reed Road Kokomo, IN. 46902
2-Free Large Ice Teas With Food Order (Dine-in Only)
Valid 2pm – Close
Merle Norman Cosmetics
1513 East Markland
Kokomo, IN. 46902 10% Off Any Purchase
(Plus a Free Makeover for the ladies and an entry into a year end drawing)
Missy's Family Restaurant
503 No. Buckeye
Kokomo, IN. 46901
Buy 1 Meal, Get 1 Half Off. Offer valid Mon – Thursday of Date Week (6am – 3pm)
Mo Joe's Coffee House
106 North Main
Kokomo, IN. 46901
Buy 1 Drink, Get 1 Drink of Equal Value Free
Noble Romans
1413 S. Reed Rd.
Kokomo, IN 46902
3 Free Breadstick's w/Dipping Sauce & 3 Free Cinnamon Sticks with a minimum $10 purchase
Oscar's Pizza
515 North Buckeye
Kokomo, IN. 46901
10% Off
Outback Steakhouse
3730 South Reed Road Kokomo, IN. 46902
Free Bloomin' Onion (1 Per Table, Not Good with any other offer)
Pastarrific Italian Rest.
3001 South Webster
Kokomo, IN. 46902
20% Off (Food Only)
Pizza Hut
All 3 Kokomo, IN. Locations
2328 West Sycamore
710 S. Reed Rd.
408 E. Center Rd.
Medium 3-Topping or Specialty Pizza, S Breadsticks w/ Choice of Sauce and 2 Drinks, $12.00
Pizza Shack
311 East Jefferson Street Tipton, IN. 46072
Buy 1 Buffet, Get 1 Free
Windmill Grill
2335 West Sycamore
Kokomo, IN. 46901 Complimentary Appetizer & Dessert To Share (Must Purchase 2 Complete Dinners and Beverages) (Sandwiches, Salads and Sides Do Not Qualify as Complete Dinners) (Options Include: Free Cheese Sticks or Potato Skins and Free Cheesecake or Chocolate-Chocolate Mousse Cake)